Dr. Giovanna Conti, a professor of music, became quite familar with Dr. Hamer's New Medicine when dealing with her own health crisis. Dr. Conti realized that the Second Biological Law of GNM is expressed in some classical music.
Dr. Conti found that some of the works of Beethoven, Mozart as Chopin are structured in exact accordance with the Second Biological Law of GNM. In other words, the two-phase expression of each Significant Biological Special Program of Nature, what we commonly understand as disease.
Through each classical musical piece a complete Significant Biological Special Program in the composers life, from the DHS (conflict shock) and the conflict active phase to the conflict resolution and the healing phase. This implies that music, medicine, and biology are founded on equal principles.
In her book, The Biological Meaning of Music, Dr. Conti realized that certain musical pieces were expressing a parallel to Dr. Hamer's revelations regarding the nature and unfoldment of disease.
The discovery that certain pieces of music have a powerful influence on assisting us through the conflict active and healing phases of disease has profound ramifications relative to our work in GNM.
Dr. Hamer has been recently engaged in great depth relative to this phenomenon. His research is uplifting and hopeful.
For those familar with GNM, the Second Biological Law describes the two phase nature or course of all disease. It explains the conflict active phase (sympathetic nervous system) with which each disease begins and lasts for as long as the person remains active in conflict – followed by the resolution or restoration phase (parasympathetic nervous system.)
In the YouTube video above, note the graph running in the background simultaneously with the music. This is the musical expression of the DHS, conflict active phase, conflict resolution, healing phase A, epicrisis and healing phase b.
Most music today is dissonant, chaotic and disruptive. Very different from certain classical pieces.
What relevance does Dr. Conti's musical formula have to healing? Musical compositions that fall into her formula synch up the nervous system and, in my opinion, the Soul to the greater unified field of nature.
Dr. Hamer has come to understand how a musical piece is composed will influence it's impact on the nervous system,
Dr. Hamer discovered that certain musical pieces are invaluable in assisting clients through the conflict active and healing phases of their disease. It enables them to navigate through the resolution of a healing phase with less complication. It facilitates a means of getting them over and through the hanging healing of a chronic disease.
The song, Mein Studentenmaedchen, written by Dr. Hamer as a love song to his wife, Sigrid serves as a template for this phenomenon.
Mein Studentenmaedchen can stop or at least downgrade conflict activity.
Mein Studentenmaedchen serves to escort or usher an individual through the healing phase unscathed and with less complications.
In cases where the client is taking steroids, the affects of Mein Studentenmaedchen may be compromised.
Dr. Hamer has since documented (Die Archaischen Melodien) hundreds of cases where the music has helped both humans and animals get through the healing crises.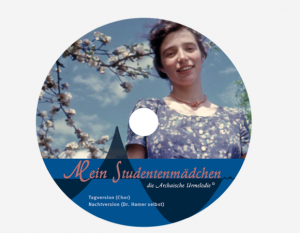 Mein Studentenmaedchen creates a suspension, neutrality or diminishment of the conflict active phase in the cerebrum. In other words, it's downgrading the conflict intensity. In the pons, or old brain the conflict activity is suspended. Relative to the healing phase, Mein Studentenmaedchen facilitates a more comfortable and expedient one.
Mein Studentenmaedchen is accomplishing the same.
Mein Studentenmaedchen should be played at a just audible level, non-stop, ideally 24/7 for those with serious conditions. For the rest of us you may experiment with Mein Studentenmaedchen – but in general more is better.
Mein Studentenmaedchen is truly comforting in its own, unique way.
Mein Studentenmaedchen ideally should be listened to at the natural 432 hertz frequency found below.
There is a daytime choir piece and a nighttime cello piece.
Mein Studentenmaedchen is a beneficial compliment for those people working with Neal Robert.
To Listen Mein Studentenmaedchen, Daytime (440 hertz)
To Listen Mein Studentenmaedchen, Nighttime (432 hertz)

---
For an in depth presentation from Giovanna Conti herself.
The volume is a bit low so you may need to plug in earphones (earbuds) while listening.
---