Non-Hodgkin's Lymphoma.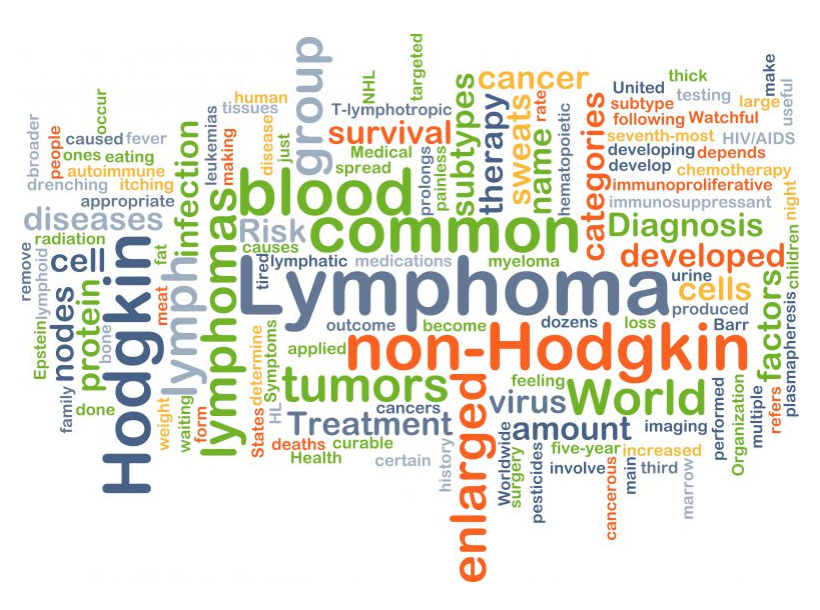 An exacting expression of Dr. Hamer's findings.
I would like to share my own story about being privileged to be able to know the exact moment of my own biological conflict-shock and the exact moment of its resolution.
In February of 2009 my mother was diagnosed with stage 3-b metastatic adenocarcinoma (alveolar lung cancer.) I was with her when she received the diagnosis as it hit me like a ton if bricks – so much that I had to lie down on the floor as I felt like I would pass out. This was the exact moment-in-time of my conflict-shock.
Her diagnosis for me was perceived by my psyche as danger, heading into a dangerous situation (a frontal fear, a fear of what lie ahead, a fear that confronted me.) Since this was all before I knew about German New Medicine, I spent every hour of every day scouring the internet for help. I was in a state of absolute terror. This was my state of conflict activity. This state went on for 5-6 months.
We connected with a German New Medicine practitioner who reassured us that fear and panic were our worst enemy and that it was important to step back from everything and relax. That was good advice – but I knew from my research that there had to be more than simply relax.
What was my mom's conflict? How do we go about unearthing it? Was it resolved? How will we know? That was a big one for me because if it wasn't resolved the tumor would continue to grow (as an adenocarcinoma grows during the conflict active phase.) And, what about tracks? Tracks are reminders within our environment that can reopen the conflict.
Turns out my Mom did not have an adenocarcinoma (a death fright conflict) but rather a bronchial carcinoma (a territorial aggression conflict.) As I started to sob with relief (this was the exact moment-in-time of my danger conflict resolution.)
I was still very green when it came to GNM but I knew enough to understand what this meant. My mother was in a healing phase! A bronchial carcinoma will only grow AFTER the conflict is resolved. The reason I was sobbing was during the prior five months I was completely unsure as to what was going on. Was the original conflict resolved? Would it keep growing? There were no definitive answers – I was in a constant state of the frontal fear or heading into danger.
I softened as I realized my mom was in a healing phase and the tumor would not get any larger. It was now just a matter of navigating the healing phase. It is not unheard of for a needle biopsy diagnosis to be wrong as multiple embryologic germ layers are accessed during the procedure.
So, back to me. About 6 weeks later I was at the dentist and happened to feel my neck. I palpated a "lymph node" that was swollen on the left side (mother/child.) A frontal fear conflict takes to 6-8 weeks to "fill-in" after resolution.
Bingo. It was 6 weeks to the day after my resolution!
Let me explain. The lymph nodes in the head and neck area are not true lymph tissue, rather they are an embryologic remnant of the evolutionary more primitive branchial/pharyngeal tissue. In German New Medicine this tissue responds to a "frontal fear" conflict as described above. (Left handers would respond with a powerlessness-helplessness conflict.)
During the conflict active phase tiny, microscopic ulcerations occur within the squamous tissue of the pharyngeal duct. It is only upon resolution of the conflict that these ulcerations or cell loss will be replenished with new rapidly dividing cells (cancer) along with swelling.
Traditional medicine would diagnose this as a non-hodgkin's lymphoma and begin an aggressive course of surgery, chemotherapy and radiation.
The grading of the lymphoma's aggressiveness would be dependent upon the timing of the biopsy. If the biopsy was performed early on when the cells were rapidly mitosing (dividing) they would appear poorly differentiated and a grim prognosis would result. If the biopsy was done a bit later as the cells filling in slowed down a bit, the diagnosis would be the same – albeit a less aggressive form. If the biopsy was performed after all cell division (filling in) was complete, a benign cyst would be now diagnosed!
If the diagnosis given is Splenic Marginal Zone Lymphoma, a injury or bleeding conflict is at play. If there is node involvement in the axilla, abdomen and groin then we are no longer dealing with a frontal-fear conflict. These areas are 'true' lymph tissue and respond to a completely different biological conflict of self-devaluation. Another blog for another day. :')